Atop A Balanced Rock
Here is our adventurous puppy
Lightning
standing on top of an amazing balanced rock that sits near our home. I had often thought how wonderful it would be to photograph one of our dogs at the top.
Lightning is wearing a royal blue Trekker dog pack (now replaced by the
Reflector
). Because he's so young, his dog pack is empty and just for fun. Puppies should
never
carry weight until they are fully grown!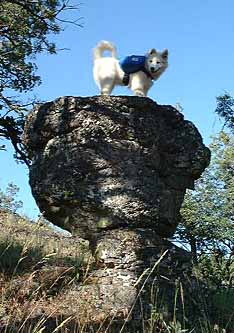 I worked with my little buddy for a week with my "Rock" command, using tree stumps and low rocks to practice on. Basic click & treat rewards were part of our program, whenever all four of his feet stood on the object I pointed to. He was very comfortable standing atop this geologically doomed formation for these photographs.