2007 Chemult Sled Dog Race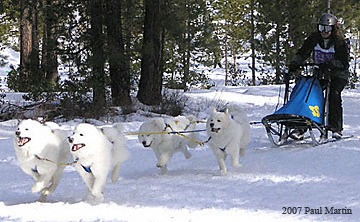 In the 2007-2008 winter season, we borrowed two wonderful girls from Kay Hallberg of Wolf River Samoyeds. Moonrise (right wheel), an experienced sled dog, and Canyon (left wheel) added a great deal of power and enthusiasm to our team. The Chemult Sled Dog Race in Oregon was my first time racing a four-dog team, and it was just thrilling. The course was incredibly fun, and beautifully groomed. The dogs ran hard and strong. This race helped our team to win the SCA Top Sprint Team award for the season. I think our boys,
Lightning
(left lead) and
Nimbus
(right lead), enjoyed having the girls helping them out.