Scootering
Thirteen month old
Lightning
has begun to work with our scooter. These mountain bike-like devices have no seat or pedals, making them safer to use when working dogs. As with sledding or skijoring, Lightning wears a harness which is specially designed for dogs who pull sleds. A special line with a shock cord is attached to his harness, then to the scooter frame.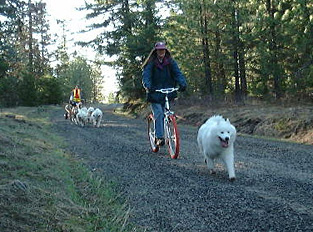 This image shows Lightning and Linda shortly after passing our friend's six dog team. We did a five mile run this day. Whenever we can, we practice passing and running with other teams.
Our scooter is one of the few Blauwerk Downhills in white. Lightning was responsible for selling many Blauwerk scooters until the American distributor went out of business in early 2002.