Puppy Pack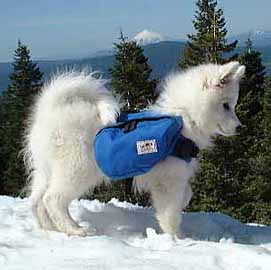 Lightning
is captured here during his very first dog pack experience. He is a fine example of the ancient Samoyed breed, and will eventually grow to be a strong, handsome 55 pound dog. Lightning adores people, and has an outgoing, happy attitude toward life. He is a joyful member of our family.
Our 13 week old puppy is pictured in a royal blue Trekker (now replaced by the
Reflector
) dog pack. These dog packs are made by our dog outfitting company
Wolf Packs
, for which our dogs model. Although we couldn't resist letting Lightning try on an empty dog pack for these pictures, puppies should
never
carry weight until they are fully grown.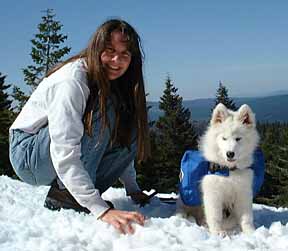 Linda and Lightning are enjoying the sunshine on the summit of Soda Mountain in the Siskiyou Range of southern Oregon. This special region is now part of the Cascade-Siskiyou National Monument, and has been deemed the most diverse biological area in North America. From our spot it seemed like you could see forever. Mount McLaughlin, an inactive volcano in the Cascade Range to the north, is visible in the distance in the top image.