Visiting Washington DC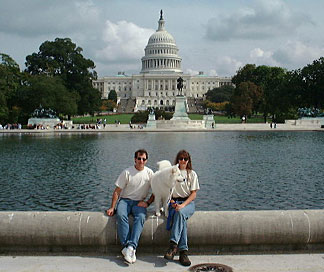 Lightning
visited Washington DC, and seemed to enjoy the majesty and beauty of the park-like grounds. Here Paul, Lightning, and Linda are sitting on the edge of the pond in front of the Capitol Building.
We walked toward the Capitol admiring the incredible bronze sculptures along the way. We were discovered by an adorable young lady who was delighted by Lightning's soft, waving tail. Our puppy was wearing his ID Cape with "Ask To Pet Me - I'm Friendly" and "Therapy Dog" patches, made by our company
Wolf Packs
. He was hugged and petted by many children that day, which he really enjoyed!